---
---
---
---
Lisa M. Hipps
Legal Assistant / Paralegal
Tel: 314.218.3040, ext. 106

ABOUT
DAWN CHRISTOFFERSEN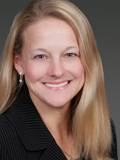 Dawn T. Christoffersen founded DTC Advisors, LLC in 2011. Dawn concentrates her practice in the areas of estate planning and probate and trust administration, federal and state income tax planning and controversy, and business legal matters, including general corporate counsel advice, mergers and acquisitions, and business succession planning. Dawn is also a certified mediator with focused expertise in these areas. Dawn has received an AV Peer Review Rating on Martindale Hubbell, the highest rate that can be given, which was given by her peers for her high level of professional excellence.
Dawn's experience includes:
Preparation and implementation of a variety of estate planning techniques including Revocable Living Trusts, Irrevocable Gift Trusts, Special Needs Trusts, Grantor Retained Annuity Trusts, Family Limited Partnership, Charitable Remainder Trusts, Charitable Foundations, Retirement Trusts and Installment Sales involving Defective Grantor Trusts.
• Work with middle-sized and closely held businesses regarding formation issues, choice of entity concerns, general business advice, planning for transfer of control, partnership, S Corporation and C corporation tax planning problems, debt restructuring issues and retirement plan compliance with ERISA and federal tax laws.
Structure and implementation of mergers, acquisitions, recapitalizations, liquidations and other corporate reorganizations for middle and smaller market enterprises.
Successful representation of taxpayers before the United States Tax Court and the Internal Revenue Service at the audit and appellate level with regard to estate, gift and income tax matters.
Counseling of fiduciaries in relation to independent and supervised probate estates, shall estates, conservatorship estate and trust administration including involvement with estate and trusts with significant creditor issues and disputes among beneficiaries/shareholders.
Successful representation in state circuit court to modify and terminate revocable living trusts, defend against breach of fiduciary claims and defend against Will contests brought by estate and trust beneficiaries.
Preparation and advice related to complicated fiduciary, estate and gift tax returns.
Planning and drafting agreements regarding matters ancillary to estate and business succession planning such as pre-nuptial and post-nuptial agreements, buy-sell agreement, voting trusts, split dollar agreements and deferred compensation agreement.
Professional and Civic Activities
Dawn is licensed to practice law in Missouri, Illinois and Colorado. She is also admitted to practice before the United States Tax Court and the Internal Revenue Service and is a member of the American Bar Association, the Missouri Bar Association, and the Illinois Bar Association. Dawn serves as the Board President (interim) of the Missouri Coalition for the Environment (MCE), chairs the Major Gifts & Planned Giving Committee for Ronald McDonald House Charities of St. Louis and is a member of the SLSO Legacy Advisors Group, Saint Louis Art Museum Planned Giving Council, Cardinal Glennon Children's Hospital Planned Giving Council, and the Finance, Letter of Intent and Site Visit Committees of the Spirit of St. Louis (SOS) Women's Fund.
Dawn previously was an adjunct faculty member in the L.L.M. in taxation program at Washington University's School of Law and taught a class entitled "Practical Issues in Wealth Planning and Drafting".
Prior to founding DTC Advisors, LLC, Dawn was an equity shareholder and Practice Group Leader for the Business Law Practice Group at another area law firm.
Representative Presentations
"Basic Estate Planning", Laclede Gas Retirement Planning Seminar
"Estate Planning Issues", St. Louis Theos for the Widowed
"Buy-Sell Agreements: Could they lead to unintended consequences?", Suelthaus & Walsh Planning Seminar
"Estate Planning and Business Succession Planning", SITE Improvement Association of St. Louis
"Legal Planning for Loved Ones with Special Needs", Edwardsville School District, St. Louis ARC
"Understanding Illinois Guardianships for Medical Practitioners"
"Proactive Planning for Estate Taxes", National Business Institute seminar
"Legal Planning Issues for Non-Profits", Illinois Chambers of Commerce
"ABCs of Estate Planning: Basic Trusts", Bar Association of Metropolitan St. Louis
"The Life of Your Practice: Your Exit Strategy", physicians' groups
"Tax Relief Act of 2010 - Planning Opportunities", panel member, Moneta University
Education
Dawn received her L.L.M. in Taxation from Washington University in 2002 and received the Gary I. Boren Memorial Award for the highest GPA. She earned her Juris Doctorate from Northwestern University in 1997 with a Business Associations concentration and received her Bachelor of Science in Business Administration from Washington University in 1994 with a concentration in accounting and minors in music and political science. Dawn passed the Missouri Certified Public Accountancy Exam in 1996. She also has Masters in Sustainability from Saint Louis University.